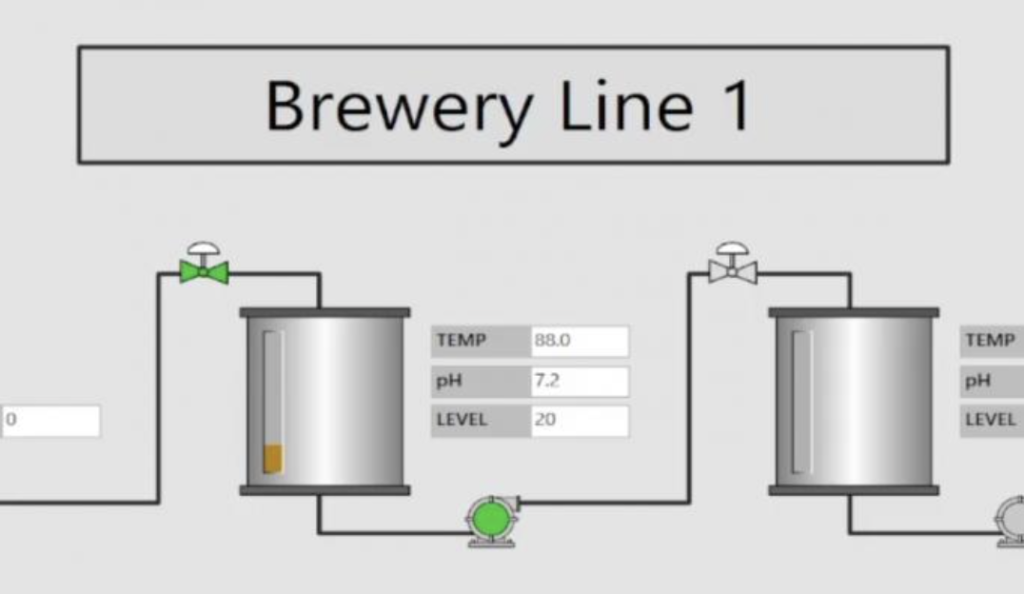 The Brewery Project | Tutorial
In our new demo, you'll find the Brewery Project. If you're new to the software, we recommend starting here.
In this project, we've built a brewery line from scratch, using all of the main software features. At our training site, you'll find a free course that explains how we did this, from creating a project to adding alarming capabilities.
As you install the software, you'll find a project titled "Demo". This main project contains four different demos, that showcase different industrial applications you can build with our platform. You'll find detailed information about each one on this page – just scroll down, or click in each one to learn more. 
The Process Plant Demo shows you some of the features you can use in building your own Enterprise SCADA systems.
Traditional Graphics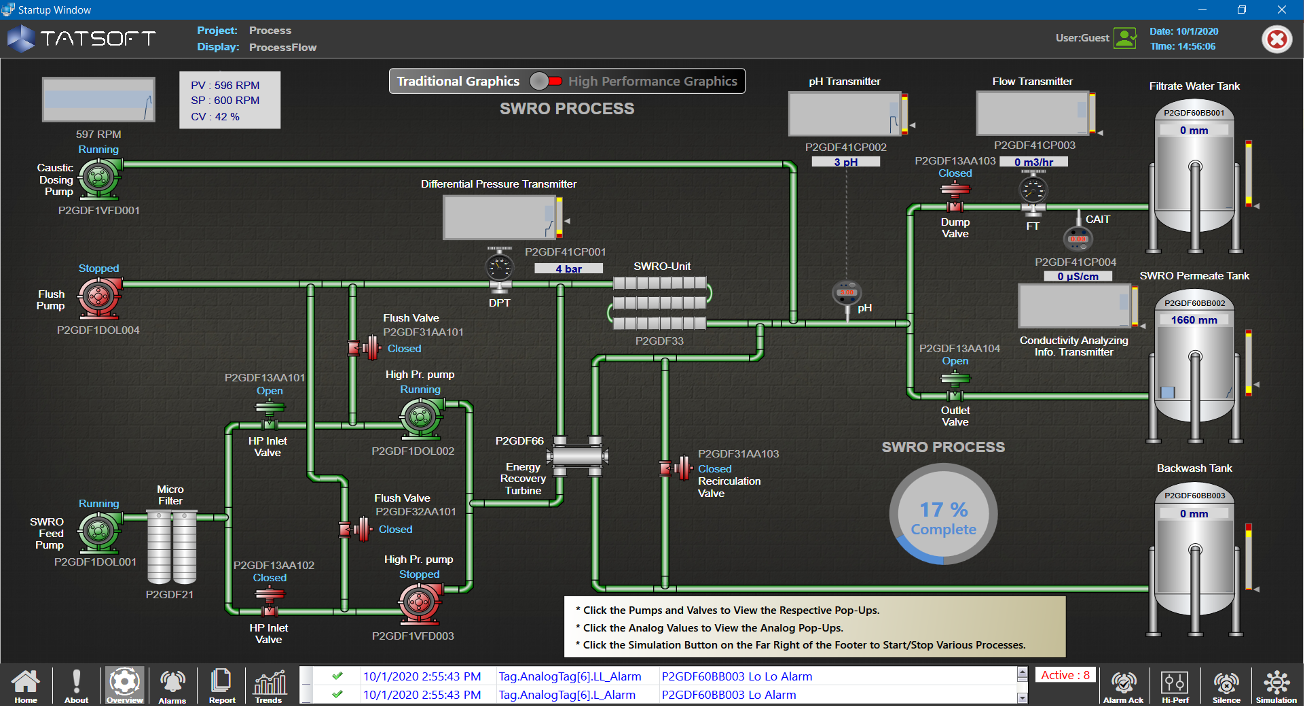 Traditional Graphics and Powerful Symbols allow you to quickly create and customize your projects of any size.
Build Enterprise software that runs on multiple platforms – Windows, Linux, iOS, and HTML5, all from the same engineering environment.
High Performance Graphics
Animation and State
Alarms and Alarm History
Pop-Up Context Windows
Customizable Trend Charts
Reports
System & Project Information
The "What is OEE?" Demo is a multi-faceted project.
Teaches you what "OEE" is through examples. Move the given sliders to experiment and see the impact each component has in real-time
Contains an animated bottling line with simulator that you can control – impacting your OEE
Shows examples of various errors on a production line that can impact your OEE components – Availability, Performance, and Quality
See how easy reporting can be – such as how to include charts and data grids
Digital Twin Simulations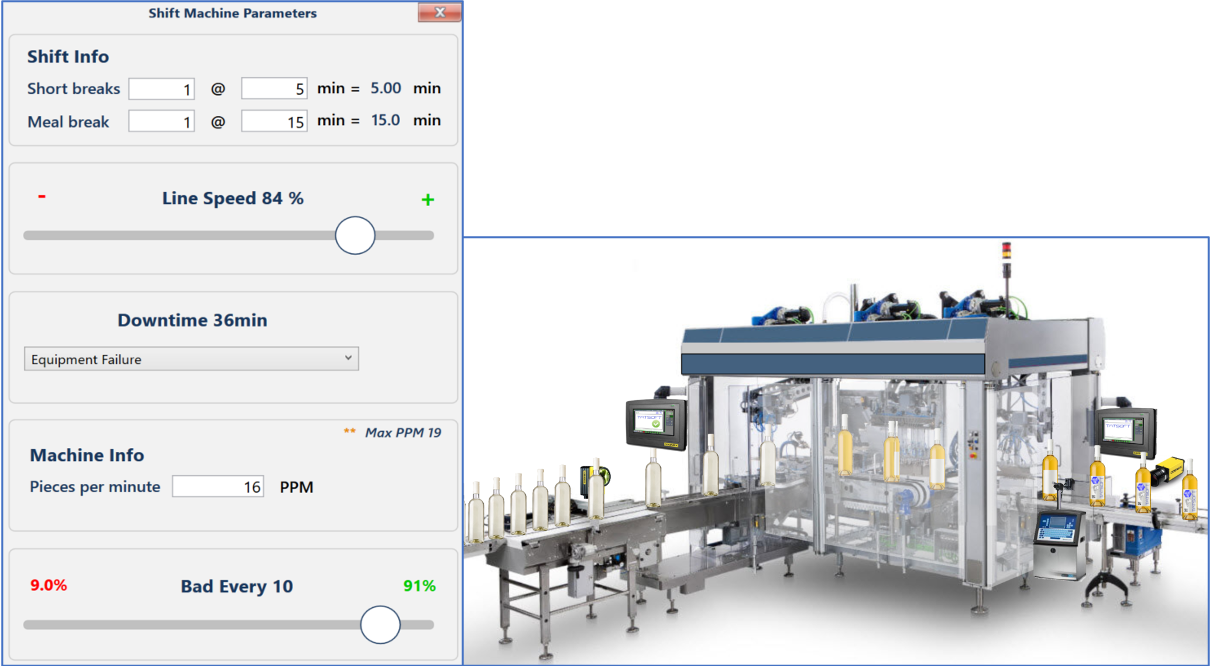 Digital Twins can help speed your R&D and Training initiatives.
Build Digital Twins with high-speed graphics to simulate your processes
Mimic real-time processes
Simulate various conditions
Test operator responses to simulated scenarios
Train operators on new processes ahead of time
Train new operators on proper operations while letting them safely experiment with simulated controls and system responses – and see its impact on the business
Interactive Learning
Multiple Menu Styles
Realistic Animation
In-Project Controls
Tool Tips and Hover Actions
Pop-Up Simulator
Real-Time Reports and Charts
Andon & Discrete Production
The Andon & Discrete Production Demo showcases some of the features you can use in building a real-time Andon / Discrete Production system.
Animated Production Overview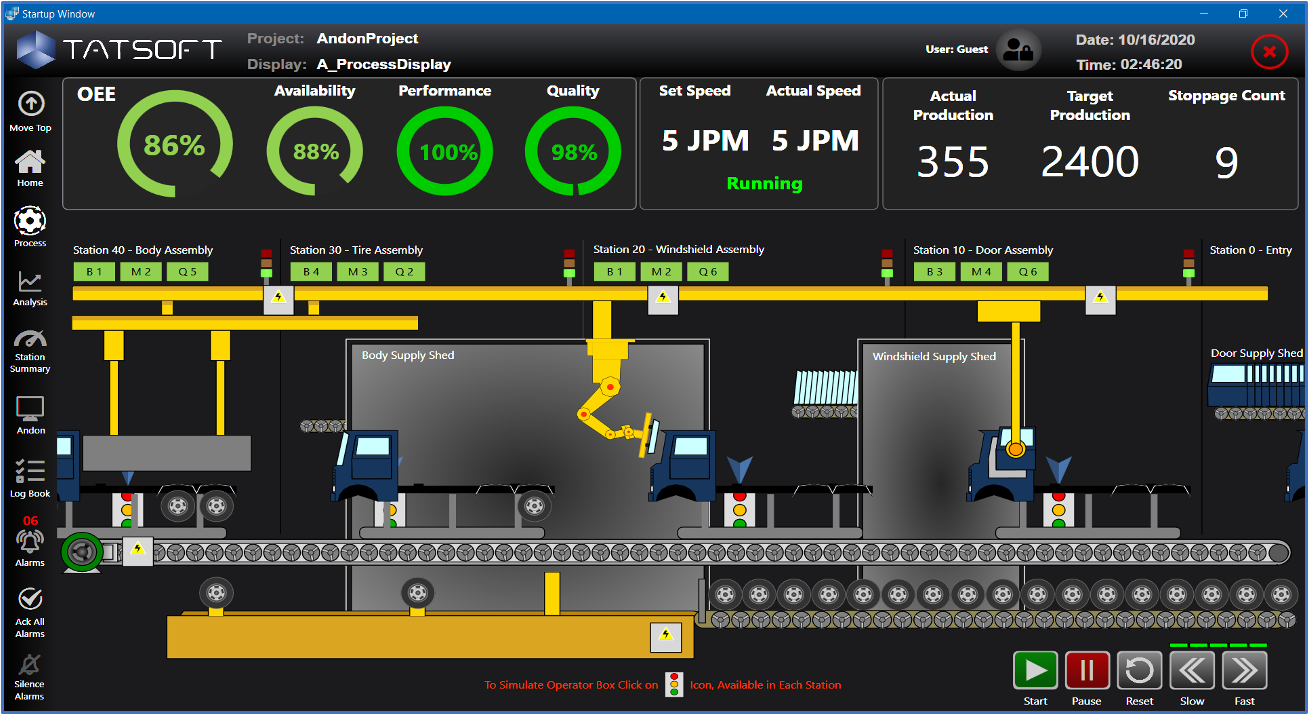 Animated representations of your production make it easy to keep an eye on production in real-time.
Animate a work cell, line, or even an entire plant.
Easily mimic real-time production movement, state, and error conditions.
Create Simulation Controls to mimic real-life situations to enhance training and show the impact various scenarios have on output and profitability.
Interactive Controls
Include ERP Data for Scrap Cost
Andon & KPI Dashboards
Efficient Alarm Management
Alarms & Alarm History
Maintenance Logbook
Multiple Menu Options
KPI, OEE, and Other Calculations
Assets & Alarm Monitoring
The Assets & Alarm Monitoring Demo showcases some of the features you might use in a global enterprise for monitoring remote plants and their assets and alarms.
Interactive Map integration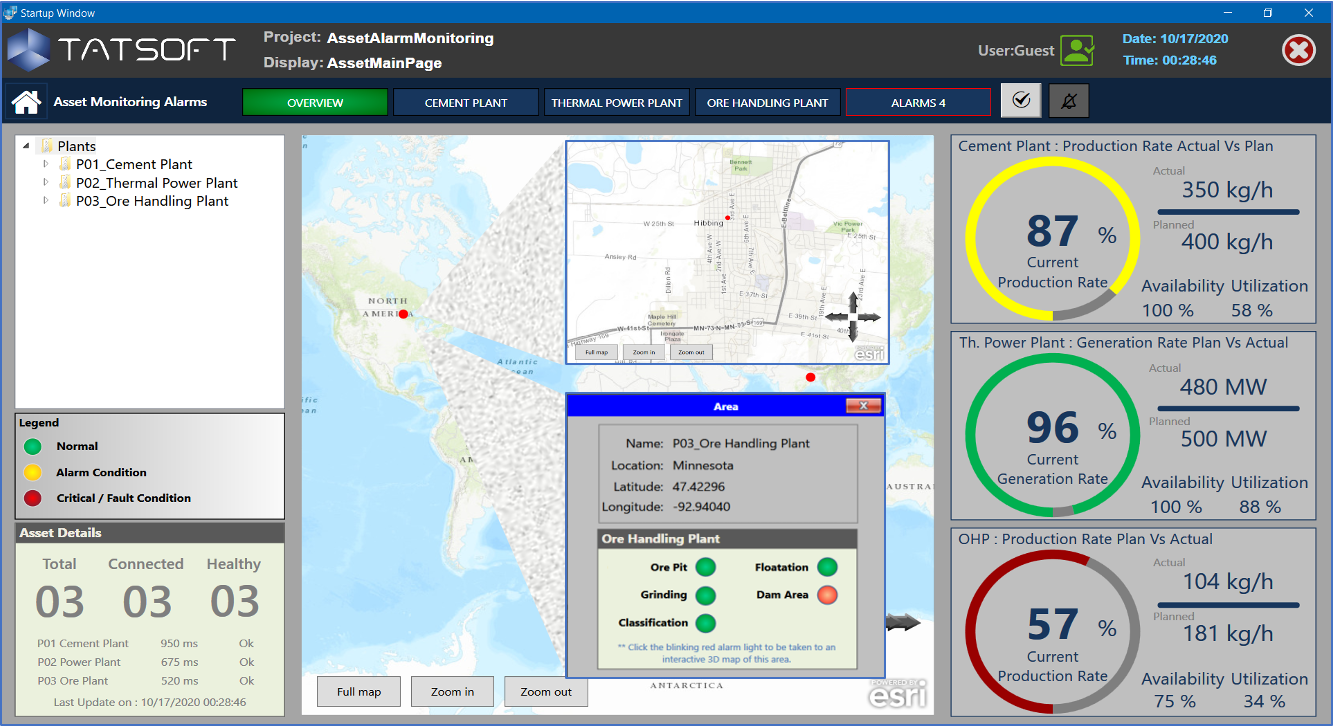 Adding interactive maps to your solution immediately adds value and context to any project.
Create a wide variety of Geographics Information Systems (GIS), for solutions such as:
Global or Regional Information Systems
Network Operations Centers (NOCs)
Transportation Management Centers
Dispatch Solutions
Truck and Asset Tracking (with IIOT sensors)
Employee Tracking
Oil / Water Remote Field Operations Centers
Use maps from ESRI or Google.
Full support for adding interactive Points of Interest (POI) and zoom.
Add dynamic, real-time assigned color to represent things such as state or value.
Click a POI to trigger an action, such as map drill in, or context pop-up.
Asset Trees & Templates
Network Diagnostics
KPI Dashboard Tiles
Plant Overview
Real-Time Performance Dashboard
Simulation Interface
3D Interactive Images
Machine Learning Integration
Context-Related Popups
Email, SMS, Voice Notifications
Alarms / History / Audit Information
This advanced demo showcases an example of distributed applications, simulating the collection, publishing and viewing of the data of a solar panel project.
This demo is made up of two projects: EdgeGateway(fxEdgeCollector), the project collecting and publishing data to a Historian, as well as an UI (fxAssetsMonitor), that dynamically detects data. Presented with a map view, it shows historic data as well as current data. You can learn more about this demo at our documentation.