Empowering operational data access and integration from the well to the cloud
FactoryStudio powered by FrameworX
Tatsoft's FrameworX is an innovative and affordable Industrial IoT software platform that allows enterprises to integrate, process, and visualize critical operational information.
FrameworX enables real-time data connection that assists operators in the Oil and Gas Industry to capture unstructured information and produce structured insights for better decision-making, improved productivity, and efficiency. FrameworX is a state-of-the-art agnostic, non-intrusive, and scalable technology that allows seamless real data integration across legacy automation systems.
With fully integrated development tools to build SCADA/HMI and IIoT solutions, scalable from edge to enterprise and from right-sized to unlimited. Increase productivity via integrated solutions, where your industrial processes and business operations intersect.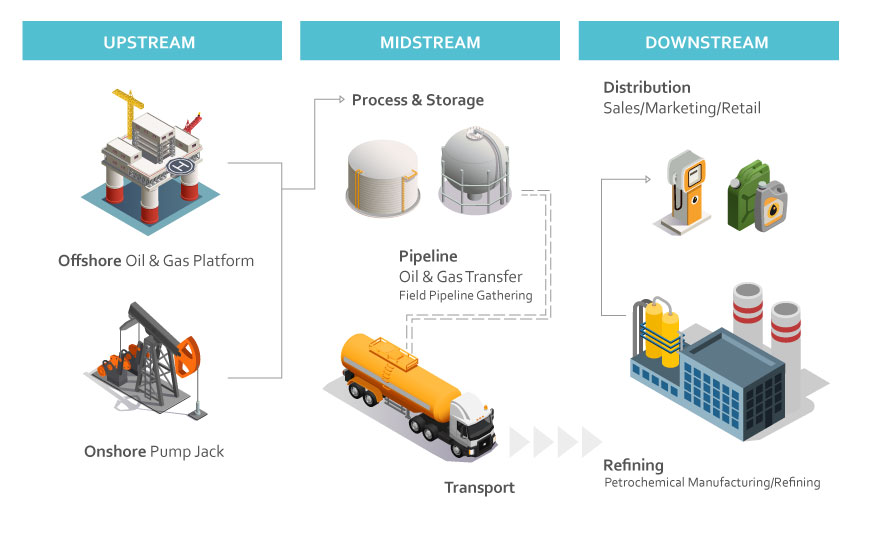 Tatsoft Founder & CTO Marc Taccolini discusses OSIsoft PI Integration
Augmented Industrial IoT connectivity and interoperability.
FrameworX technology is built based on industry standards such as OPC UA, MQTT, WITSML. This guarantees the highest level of interoperability while securing a reliable data flow, exchange, and connectivity to any SCADA, PLC,  RTU, or Historian
Benefits achieved using FrameworX and working with Tatsoft:
Faster Decision-Making: Real-time data combined with remote control allows for more informed operational adjustments.
Cost effectively, Modernize, Enhance and Augment existing systems
More Efficient Operations: Remote access and control of your facilities and assets from anywhere in the world.
Strengthen Safe and Responsible Operations: Proactive alarm management
Increased Uptime: Faster response times and remote operational control minimizes unexpected downtime.
Optimize Back-Office Personnel: Automated reports and calculations and decrease administrative workload while enhancing operational sustainability.
Better decision-making, improved productivity, and efficiency.
Tatsoft provides an innovative and affordable Industrial IoT software platform that allows enterprises to monitor, integrate, process, and visualize critical operational information. This Real-time data enhancement combined with remote access and control of your facilities and assets from anywhere in the world allows for more informed operational adjustments and faster Decision-Making.
Applications We Enable
Drilling optimization using real-time streaming data and Artificial Intelligence
Well monitoring and advance visualization interfaced to OSISoft AF and EF
Secure Supervisory Control with multiple systems including LACT
Mobile access and reporting through pipeline SCADA and Historian
Modernize and securing SCADA architecture in pipeline
Remote Asset Monitor, with ESRI maps, alarm detection and notifications
Pushing data from field to Microsoft Azure – IIoT Application
From Upstream to Downstream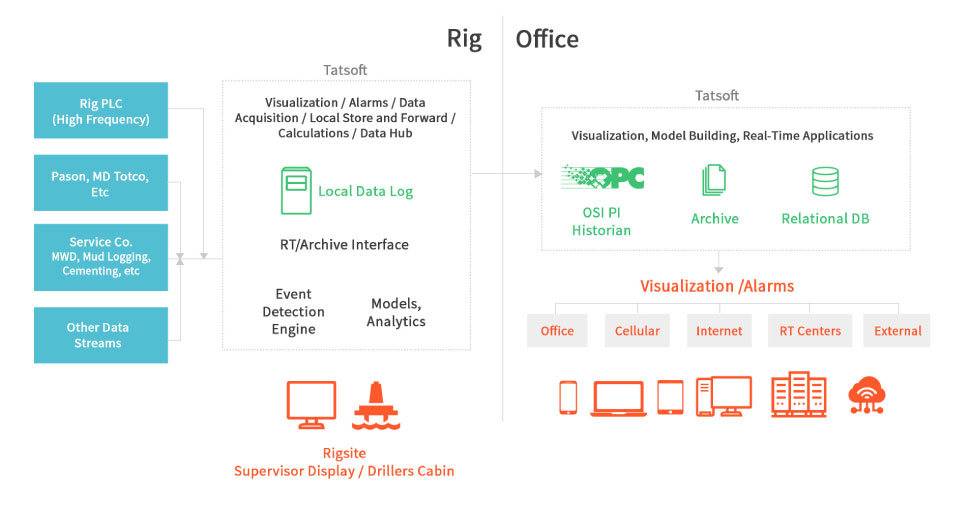 Apache Corporation wanted an innovative yet affordable solution to improve well performance, by leveraging different information sources and real-time data at its Permian Basin operations.
They also ambitioned to incorporate remote access control for better and faster data-driven Decision-Making to allow more informed operational adjustments
Apache Corporation chose FactoryStudio from Tatsoft as the integration IoT engine to aggregate, process, analyze, and visualize real-time information. The platform open standards and native interfaces to existing SCADA / Historian systems, allowed Apache Corporation to stream real-time data from multiple wells to feed  high-end analytics tools and dashboards with critical operational information, which is easier to interpret and accessible from the office or field.
Mobile and web interface for Asset monitoring on any Type Of Client Or Device
Deploy to Desktop, Web, Mobile, or Edge Device
Run on any version of Windows, Linux, iOS, Web, Raspberry PI
One Designer can create applications for desktops, mobile, and embedded devices. 
Flexible deployment modules may be run in a distributed environment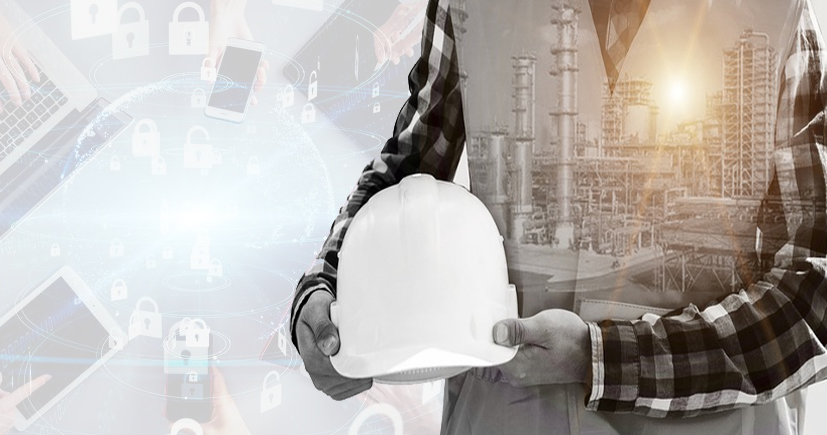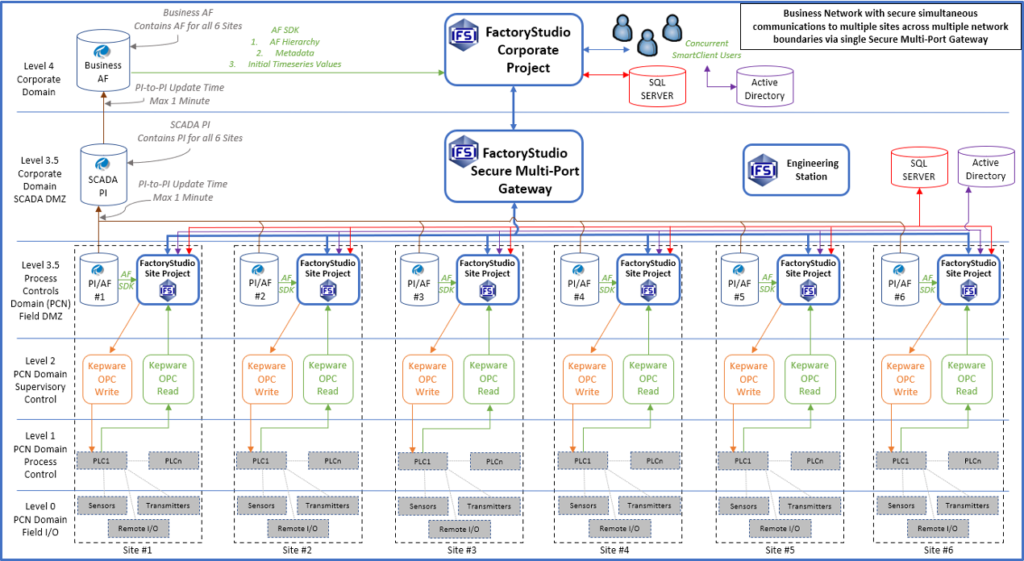 Tatsoft FactoryStudio was also selected to power-up the user interface for a technology development for Drilling ship, aiming increase the performance for deep-see drilling. That project, due the drop on prices is currently in hold, but it was deployed in a first ship, that application had around 40 displays, plus Tatsoft Trend Annotations extensions that allows engineering at the ship and in Houston to collaborate in real-time adding annotations and comments on top of trend charts, for the real-monitoring and to report result of tests. The connections at the field was with National Instruments and Osisoft, around 5,000 channels every second, and around 500 channels every 100ms. 
This company needed a solution for multiple applications to provide secure, auditable, access to remote operations, augmenting the existing OSISoft and Rockwell PLC architecture. FrameworX built-in secure gateway, full operator audit trail, and flexible interfaces to PI AF, OPC UA was the ideal fit.
Challenge:
A number of Applications or services at Bus. Network required access to the process control network
Each Application or service needed a "hole" in the firewall to operate correctly
Too many holes in firewall makes the process control network vulnerable
Needed Audit trail of data feed to identify When & Who modified it
Solution that FrameworX provided:
A Control Dashboard to direct traffic through Tatsoft's secure gateway to the process control network which is capable to direct and stop flow of data selectively as per User Defined Business Rules
Data Authenticated & Authorized, Eliminate Multiple holes in Firewall
Audit trail of manipulated data
Multiple Applications or User's requirements to access process control network was analyzed based on Business case
Requirements converted into Dataset and selection on dataset made at BUS Level
OEM in O&G in Oil Field Services
OEM focused on providing performance enhancing solutions that meet the strictest safety standards. They deliver enhanced mud pump components, top drives, mud valves, RCD/MPD systems, shaker screens and other drilling products that decrease downtime, improve safety and perform in the toughest drilling environments. The OEM solution can be customized based on well complexity and risk tolerance.
Some Features and benefits include:
System & Operator Station suitable for installation in C1D1 area
Optional flow meter for event monitoring and influx, or loss detection
Electrically actuated for accuracy and speed
Functionalities include static position, pressure or dynamic pressure control (automated connection schedule)
Simple dashboard interface that is easy to learn and operate.
System configuration requires minimal training – no calibration expert needed
Wellbore model for accurate downhole pressure control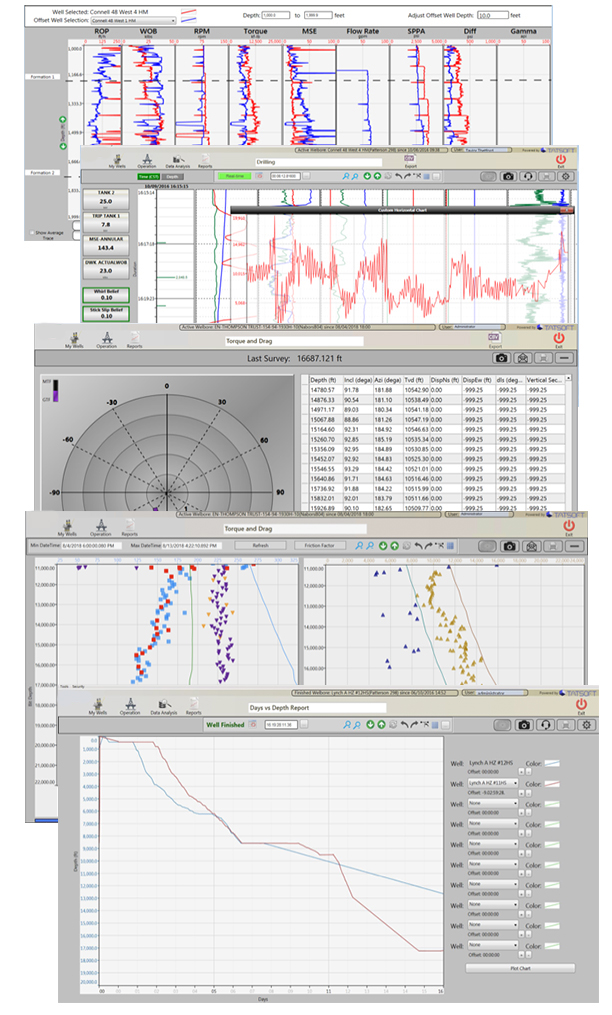 Our Asset Monitor solution is a template application created on top of FactoryStudio, allowing the easy implementation of custom corporate applications to monitor and audit operations of remote assets.
Our Asset Monitor solution template project is based on several customer solutions to give you a quick start for your project. It includes:
Assets Overview Page
Advanced Trend and Annotations View
Alarms, Events, and Notifications Engine
Reports and Dashboard Builder
Of course, the entire FrameworX Platform development tools
RigDAP for Well Monitoring
Tatsoft's solution for Drilling Data Aggregation is called RigDap, in combination with our partner, Intellicess and their technology Sentinel RT ™, an A.I. backend engine able to perform real-time streaming-data analysis, allows you to truly own your data so you can perform analysis in a reliable, consistent and controlled way.